A Texas mother sacrificed her own life to save her 3-year-old daughter from drowning in Hurricane Harvey's floods.
A 41-year-old woman who was trying to save herself and her child died on Tuesday afternoon after being swept away by floodwaters in Beaumont, Texas, police said. Her 3-year-old daughter, who survived, was found "clinging" to her mother's body.
"The baby also had a backpack that was helping her float on her back and she was holding on to her mom," Officer Carol Riley told People.
The unidentified woman had been driving with her daughter when they encountered high water, Beaumont police said in a statement. After pulling into a nearby parking lot, the woman and her child got out of the vehicle.
At some point, police said, the pair were overcome by the current and carried about half a mile from their vehicle into a waterlogged drainage canal. It was there that two police officers and two fire rescue divers who were traveling in an inflatable boat spotted them.
"They were in the water for quite some time," Officer Carol Riley, a spokesperson for the Beaumont Police Department, told People magazine. "When the baby was found, the baby was clinging to her. The mother did the best she could to keep her child up over the water."
The mother was unresponsive and later pronounced dead.
The toddler was "responsive but suffering from hypothermia," authorities said. With the help of a good Samaritan, the child was rushed to an ambulance and taken to an area hospital. She is currently in stable condition.
Her life was "absolutely saved" by her mother, said Riley.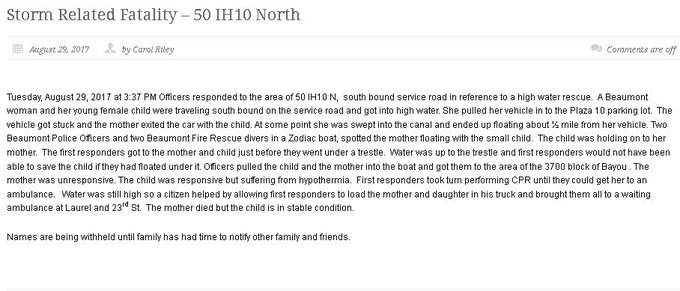 The exact number of Harvey-related deaths remains unclear as "catastrophic" floodingcontinues to hinder rescue efforts in Texas. Per AP's latest tally, at least 18 people have died in the state since Harvey made landfall as a Category 4 hurricane on Friday. Other outlets, including The New York Times, have reported at least 30 confirmed and suspected flood-related deaths.
The fatalities include a Houston police officer who drowned Sunday while driving to work. Six members of the same family, including four children, were presumed dead after a van they were traveling in was engulfed by floodwaters.
"Brave mother," wrote one person on the Daily's Mail Facebook post. "May she be remembered as a hero and rest knowing she saved her child's life."
"I am so sorry for the loss of this woman," another wrote on the Beaumont Police's Facebook page. "But thankful they saved the baby in time. I live in Kentucky but want you all to know that my prayers are with you. I have no idea why so many natural disasters are happening, but pray that God will give our country the strength to recover. God bless you all."
So far, authorities report at least 30 confirmed and suspected flood-related deaths, according to The New York Times.
On Aug. 27 one teenager died after posting about the storm on Facebook, the New York Post reports.
"No sleep & anxiety, please let this pass sooner," wrote 16-year-old Devy Saldivar.
She, alongside her siblings and grandparents, drowned while trying to escape in a van only a few hours later.
Source : huffingtonpost.in,  opposingviews