Does it happen to you while in a shoe shop, you like a shoe but it just don't fit your feet and there is no other size available for it?
Well, Few women's prefer to alter their foot to fit to the shoe of their choice with the help of plastic surgery, rather than buying another pair of shoes. Crazy, isn't it?
Now science have been focusing on this issue of women and have brought out plastic surgery capable to alter girl's feet to fit better in shoes and look better. The strategic Botox injections procedure makes the women's shoe feel better, says the surgeons.
If you are scared of death, you need to read this!
If you have the opinion that girl's conceit was limited to their faces, love handles and chest then you might need to change your perception, because New York Times reported that this new plastic surgery have been very popular and on a rise.
According to Dr. Ali Sadrie, this type of cosmetic foot surgeries have been so much in demand that he have coined cute names for all of them. The names of such procedures are followings:-
The Perfect 10: it is for toe shortening
The Model T: it is used for toe lengthening
The Cinderella: this alters the foot shape to make it adaptable to the shoe the woman wants to wear.
With Other Cosmetic Surgery On The Rise, 51,000 Brits went Procedures Last Year:-
A record number of Brits underwent cosmetic surgery last year with more than 51,000 people having procedures to alter their appearance.
New data from the British Association of Aesthetic Plastic Surgeons (BAAPS) found that the number of cosmetic ops last year grew 13% overall since 2014 – with all procedures seeing an increase in demand.
Women's cosmetic surgery rose 12.5% from 2014. While men still account for just 9% of the total number of cosmetic surgery operations in the UK, their numbers have nearly doubled over the past decade from 2,440 procedures in 2005 to 4,614 in 2015.
Surgeons from BAAPS have said that with the new trend of A-list celebrities such as Sharon Stone and Jamie Lee Curtis openly talking about cosmetic surgery could be one of the drivers for increased acceptance and de-stigmatising of aesthetic enhancement.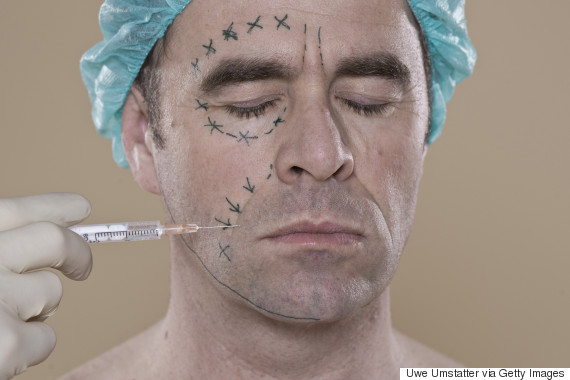 According to the report, while breast augmentation continues to remain the most popular procedure for women (up 12% from 2014), the oversized "glamour model" look once associated with implants has all but vanished, as surgeons note patients now opting for smaller sizes for a more natural, proportionate enhancement.
For women, face and neck lifts are also up 16% in the last year and liposuction is up by 20%.
Men also underwent substantially more facial procedures in 2015 than 2014, with face and neck lifts climbing 14%, brow lifts (up 15.5%), eyelid surgery (up 15%), and rhinoplasty (up 14%) all gaining huge popularity.
According to consultant plastic surgeon and former BAAPS President Rajiv Grover, who collated the audit data: "The audit has shown that demand for cosmetic surgery continues to increase following the quieter period in 2014 which mirrored the British economy.
"The double digit rise in surgical procedures suggests that the public are choosing to spend on treatments with a proven track record such as facelifts and liposuction which remain as the gold standard for facial rejuvenation and body contouring.
"The plethora of new non-invasive methods for skin tightening and cellulite that are here today and gone tomorrow, often appear too good to be true and fail to make the cut."
He added: "Perhaps the decline of the 'hyper-masculine' look fashionable last year which has given way to a sharper, more slimline shape has influenced men – and it certainly appears both genders seem encouraged by a new openness in glamorous celebrities admitting they have had 'a little surgical help' to enhance their looks.
"There is a danger however that this presents the image of cosmetic surgery as a commodity, so the public must always be warned that an operation is not something that can simply be returned to the shop if you don't like it."
Consultant plastic surgeon and BAAPS President Michael Cadier added: "There's no doubt that we are seeing an increase in demand for cosmetic surgery from both men and women.
"Whether this is inspired by celebrity culture and a recognition that the results of modern aesthetic procedures in the right hands can be subtle, natural-looking and attractive, what is most important is for patients to remember that surgery is on the whole life-changing and irreversible – far from a trivial 'status symbol' beauty treatment.
"The decision to undergo surgery must be well thought-out, with managed expectations, understanding the risks through fully informed consent and; most importantly; choosing the right specialist provider who is properly trained and accredited."
The figures in full:
The top surgical procedures for men and women in 2015 (total 51,140. A rise of 12.6% from 2014)
In order of popularity:
• Breast augmentation: 9,652 – up 12% from last year
• Blepharoplasty (eyelid surgery): 8,689 – up 12%
• Face/Neck Lift: 7,419 – up 16%
• Breast Reduction: 6,246 – up 13%
• Liposuction: 5,551 – up 20%
• Rhinoplasty: 4,205 – up 14%
• Fat Transfer: 3,261 – up 3%
• Abdominoplasty: 2,933 – up 8%
• Browlift: 2,110 – up 7%
• Otoplasty (ear correction): 1,074 – up 14%
Celebrities are driving the teen plastic-surgery boom
The celebrity drive for perfection is trickling down to the masses, and even teenagers are getting plastic surgery in record numbers.
According to The American Society of Plastic Surgeons, nearly 18,000 teens ages 13 to 19 got a form of Botox in 2013. There seems to be ever more pressure for young people to look perfect.
Are our public standards of beauty so new? Getting nipped and tucked certainly isn't. Younger women altering themselves isn't exactly novel, either.
What's new, though, is how common it is.
The 2014 Annual American Academy of Facial Plastic and Reconstructive Surgery Survey blamed "the rise of the selfie," and there may be something to that.
We're taking more pictures of ourselves and each other than ever before and our exhibitionist lives are leading to a pressure for beauty that is starting at an ever younger age. We use Photoshop, Instagram filters and other enhancements to project our best looks to the world. Plastic surgery doesn't seem so crazy as the next step anymore.
We're perfecting our best angle in every picture we snap and changing ourselves to improve on it.
One of the most visible examples of this is Kylie Jenner, who, at the age of 16, went from an awkward but still very pretty teenager to an unrecognizable bombshell. Though she only admits to having her lips plumped, speculation is that her butt, breasts and nose have all been done as well.
Kylie addressed her changed lips during an episode of her family's hit show "Keeping Up with the Kardashians." In it, she said she had always felt insecure about her looks and so she had fillers put in to boost her lips.
Of course, even before her father, Bruce Jenner, transitioned to Caitlyn, this was clearly a family that took their plastic surgery very seriously. So it's not a huge surprise that Kylie started so young.
It's not just Kylie, of course, though her prominence on our TV screens makes her a target of our "Did she or didn't she" plastic-surgery fascination. In the past, good cosmetic work went unnoticed, while bad cosmetic work caused us to ask, "Is that the girl from 'Dirty Dancing'?!"
Now even good cosmetic work is obvious and the stigma around it practically erased — most of the time.
Model Gisele Bündchen had long been outspoken on her opposition to plastic surgery, preferring, she said, a more natural approach to living. So when she gave in and went under the knife in Paris recently, she donned a full burqa to hide from the media.
Unfortunately for her, the ruse didn't work and, in any case, when she emerged back into the public eye, her transformation was obvious.
Robert Tornambe, a plastic surgeon in NYC writing for the Huffington Post, said that Gisele missed an opportunity to normalize plastic surgery. "Big deal," he wrote "cosmetic surgery in her native Brazil is more common than getting a manicure."
The documentary film "Waiting for 'Superman,' " which looked at the failures of the American public school system, found that while Americans lagged behind all other developed countries in skills like math, our children were No. 1 in confidence. It's exactly this cult of self-esteem that we promote from a young age that makes the plastic-surgery boom all the more perplexing.
We tell kids they're amazing just the way they are, even when they're not, yet they don't just learn to accept the imperfect parts of themselves. Maybe if we were honest that no one is perfect, it would ease the concern kids feel as they become imperfect teenagers.
Or maybe the future is inflated lips and butts for everyone. Could go either way.